ALPHABET COOKIES
"Name the letter before you can eat it"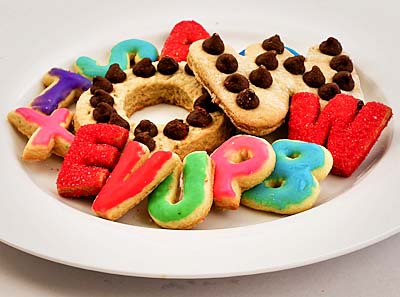 A Traditional (and fun!) way to start learning the shapes and names of the letters of the alphabet. The child should say the name of each letter as they select the cookie cutter, as they decorate the cookie and before they eat it.
Traditional Cut-out Sugar Cookies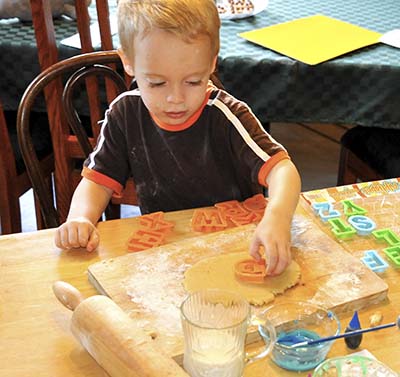 8 tablespoons soft butter (or margarine)
2/3 cup sugar
1 egg
½ teaspoon vanilla extract
1 ½ cup flour
½ teaspoon baking powder
½ teaspoon salt

Heat over to 350 degrees F. Combine flour, baking powder and salt, in a bowl, stirring thoroughly Separately, beat butter and sugar thoroughly with egg beater, then add egg and vanilla. Add the dry ingredients from the first bowl gently to the butter and sugar mixture. Dust both a roller and a rolling surface with flour, and roll out the dough to about ¼ inch thick. Use alphabet cookie cutters to make shapes (be sure to have the inner parts of the "A" and "B" etc., cut out). You can also use a paper pattern and a sharp knife, but it is a good deal more work. Gather up the scraps and roll out again for more cookies, repeat as necessary. Place on a buttered cookie or a plastic no-stick sheet. Bake for 8 to 12 minutes, until cookies are golden.


Icing

2-3 tablespoons water
1 cup confectioners sugar (powdered sugar)
food coloring (Neon colors are good)
Sprinkles, if desired

Put 2 tablespoons of almost-boiling water in a cup, adding confectioner's sugar (powdered sugar) slowly until you get the right consistency—like thick paint. Mix several colors. Apply to cooled cookies with a brush. Color on color looks good too. Refer to each cookies by its letter of the alphabet as you make, decorate, and eat them.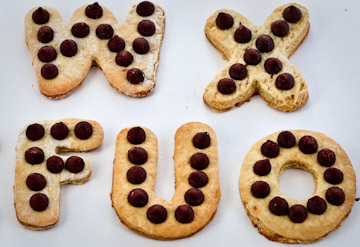 Chocolate Chip Cookies

This is the standard chocolate cookie recipe on the chocolate chip package. The cookies taste great, but they do tend to "blob" out a bit, making the shapes less clear. Instead of mixing the chocolate chips into the dough before baking, we used the chocolate chips to outline the letter on the cookie dough, right down the middle of each shape—the kids can do this, again reinforcing the shape of the letter.

2 1/4 cups all-purpose flour
1 teaspoon baking soda
1 teaspoon salt
1 cup (2 sticks) butter, softened
3/4 cup granulated sugar
3/4 cup packed brown sugar
1 teaspoon vanilla extract
2 large eggs
2 cups (12-oz. pkg.) semi-sweet chocolate chips
1 cup chopped nuts (optional)


We used the Wilton 50-Piece A-B-C and 1-2-3 cookie cutter set. It is available at many stores and on Amazon online.