More Map Puzzles!
Owl and Mouse Educational Software Page
Click Here

Find more FREE Educational Software at the
Owl and Mouse Educational Software Page
Click Here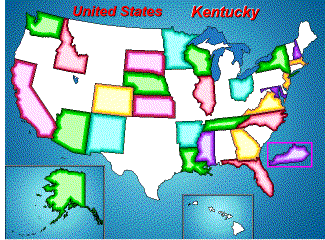 Geography is spatial – so why not learn it spatially? Reading that Virginia is north ("on top of") North Carolina does not stick in the mind very well. Seeing a picture is better, and moving the states around on a map is better still. It is easier to remember and more meaningful. Give your child a picture of the world that she will always have in her mind. From history books to the nightly news, or the Net, your child will know the WHERE of important events.
Download and play the U.S. Map Puzzle game. Put in the states with the state borders shown on the background to learn quickly. Try it without the state borders to test your knowledge. Learn the capitals. Play for your fastest time or just for fun.
Better than a wooden U.S. map puzzle: more learning and more fun. With this game you can't lose Massachusetts under the couch.
Free! Play U.S. Map Puzzle online



---
You might also be interested in:
MegaMaps - Walk Through the Continents
Print U.S. and World maps from a single page to 8 pages (nearly 7 feet across). Large maps to learn geography, to color for fun, or to put together as a puzzle. This is a fun way to learn the states, their capitals and foreign countries. Great for classrooms and homeschool. Free Software.