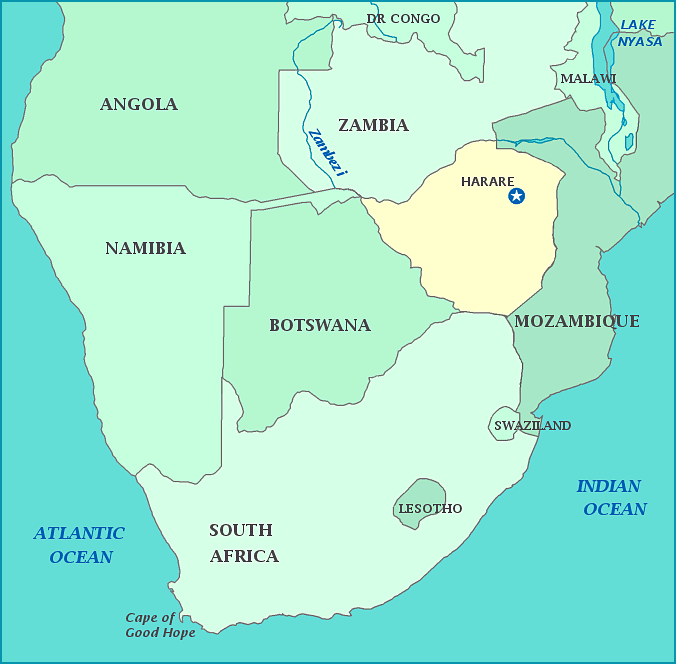 Zimbabwe

The area that is now Zimbabwe was part of a culture that traded with Arab merchants by the 10th century. It contains the Great Zimbabwe, the largest ruins In sub-Saharan Africa. The Great Zimbabwe has a palace and what seems to be a city around the palace. The Great Zimbabwe, probably built by ancestors of the Shona people, is dry stone construction, that is, without any mortar. Some parts are much more beautifully done that others; presumably they are where the king and his court lived, while other parts seem to have been meant for enclosing animals. At its height, the Great Zimbabwe could have housed 18,000 people.
The first Europeans to have a presence in the area were the Portuguese.  They were driven out by the British, who formed the British South Africa Company, which obtained concession for the area including present-day Zimbabwe. It became Southern Rhodesia, named after Cecil Rhodes. In 1923, Southern Rhodesia was annexed by Great Britain as a self-governing colony.  A constitution was adopted, which gave disproportionate power to the white minority.
In 1964 Ian Smith declared Rhodesia's independence to prevent Britain from imposing majority rule that would end the white dominated government. Sanctions were imposed by the UN and a widespread guerrilla war ensued.
In 1979 an agreement of all parties ended the guerrilla war and made Rhodesia briefly a British colony again. Independence came in 1980 with Robert Mugabe and the ZANU party winning a landslide victory. Since 1980 Mugabe has clung to power. A poorly managed compulsory transfer of land from whites to blacks, economic mismanagement and corruption have left Zimbabwe in very poor economic condition.