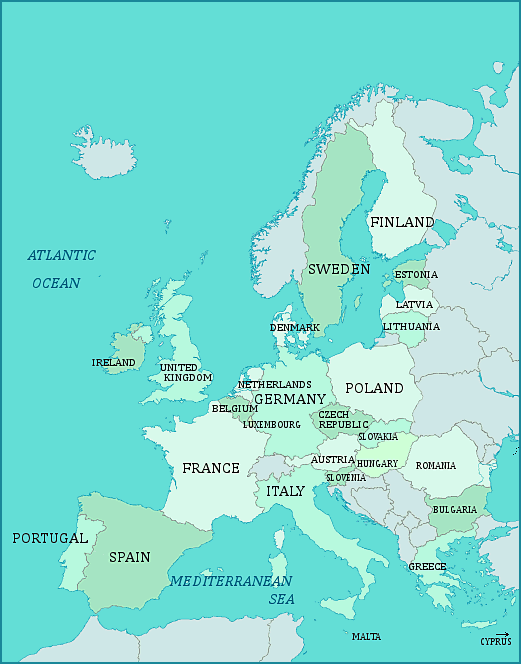 The European Union (EU) consists of 28 European countries which have banded together for economic and political cooperation.  Starting with just six countries Belgium, Germany, France, Italy, Luxembourg, and the Netherlands as the European Economic Community in 1958, the current EU has 28 countries and includes most of the European continent.
The symbol of the EU is a ring of yellow stars on a blue background.  Its capital is in Brussels, Belgium.  Most of its member countries use the Euro as their currency, and are part of the Schengen Area, which means that normally there are no border controls between countries within the area.
The EU has more than 508 million people, and a GDP (Gross Domestic Product) of over 18 trillion dollars, which is about 24% of world GDP. There are 24 official languages in the EU.

Members of the European Union (date of membership):
Austria (1995)
Belgium (1952)
Bulgaria (2007)
Cyprus (2004)
Czech Republic (2004)
Denmark (1973)
Estonia (2004)
Finland (1995)
France (1952)
Germany (1952)
Greece (1981)
Hungary (1984)
Ireland (1973)
Italy (1952)
Latvia (2004)
Lithuania (2004)
Luxembourg (1852)
Malta (2004)
Netherlands (1952)
Portugal (2004)
Poland (1986)
Romania (2007)
Slovakia (2004)
Slovenia (2004)
Spain (1986)
Sweden (1995).
United Kingdom (1973)
Note that the countries we think of as "Western Europe" were mostly members of the EU very early, before some of the "Iron Curtain" countries were free of Soviet control. The Berlin wall, separating East Berlin from West Berlin, came down in 1989. The Baltic states, for instance, became independent in 1991.