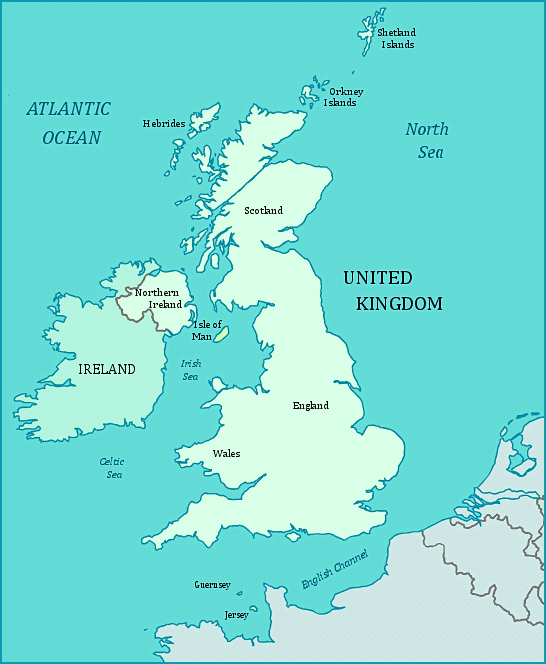 The British Isles are located off the north-west coast of the continent of Europe, facing the Celtic Sea, the Irish Sea and the Atlantic Ocean. The English Channel separates the island of Great Britain from the rest of Europe.
The two major islands of the British Isles are Great Britain, which contains England, Scotland and Wales; and Ireland which contains Northern Ireland and the separate country of Ireland.  England, Scotland, Wales and Northern Ireland make up the nation of The United Kingdom of Great Britain and Ireland.  The Bailiwick of Guernsey, and the Isle of Man are dependencies of the British Crown.  The Isle of Man is located between the two major islands of Great Britain and Ireland in the middle of the Irish Sea.  The Isle of Jersey is ruled by the Duke of Normandy, who is the reigning monarch of the United Kingdom.  Other islands in the Archipelago are the Orkney Islands, off the north west coast of Scotland, and the Hebrides, islands scattered off the west coast of Scotland.
The parliament of the Isle of Man, the Tynwald, claims to be the oldest continuously ruling body in the world.  During World War II, both the Isle of Jersey and the Isle of Guernsey were occupied by the German Army.