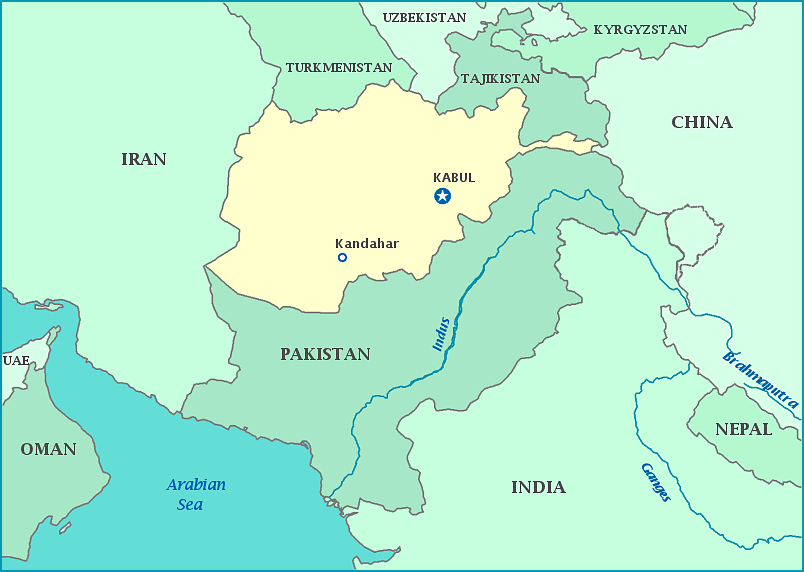 AFGHANISTAN
The Republic of Afghanistan lies just barely on the border of China, also neighboring Tajikistan, Pakistan, Iran, and Uzbekistan. It sees a continental climate and earthquakes every year or so. A strategic part of the Silk Road in ancient times, the region has been invaded by Alexander the Great, Arab Muslims, Genghis Khan, and American military forces; it has been part of the Mauryan, Kushan, Samarid, Ghaznid, Gharid, Mughal, Durrani, and British empires. The area is thought to be the origin of the Zoroastrian religion. Buddhism was known to have been introduced by the Mauryan Empire and Islam was brought in 642 CE.
In the 19th century, Britain began colonizing in Asia and used Afghanistan as a buffer state between themselves and Russia until they decided to add it to their colonies. Afghanistan won the first war against Britain's forces in India in 1842, but lost the second war in 1870. After a third war, King Amanullah declared the country independent. He made several controversial laws, such as abolishing slavery, abolishing the burqa, and instituting coed schools
While the country allied with the Soviets in previous wars, the country did not participate in the Cold War. In 1978, the communist PDPA Party seized power in the government and was met by uprisings within months. Despite coups and assassination attempts from both sides, the PDPA introduced several reforms and gender equality laws, allowing women into politics for the first time. Soon, Afghanistan faced a 10-year war, in which a million died. The US gave somewhere between 6-40 billion dollars to oust the Soviets, which finally happened in 1989.
In 1994, various factions took control of different regions, one faction being the infamous Taliban. The Taliban took control of Kabul and established the Islamic Emirate of Afghanistan in 1996 and continued a reign of terror that would grow worse and worse. According to Physicians for Human Rights, 'no other regime in the world has methodically and violently forced itself on half of its population in virtual house arrest, prohibiting them on pain of physical punishment'. After the attacks on the World Trade Center, America launched Operation Enduring Freedom and invaded Afghanistan. The Taliban government was toppled and Hamid Karzai was established as leader and the International Security Assistance Force was established by the UN to help provide security for citizens. However, the Taliban set up shadow governments in several parts of the country, regaining some political control. Many times, they have refused to negotiate. Today, the Taliban continue to control and attack various cities and villages throughout the country. Both UN and American forces remain to help pacify such violence, though America is indecisive and slow to leave.